Ever tried plant-based cheese? Then you'll know there's a problem.
The last decade has seen a huge rise in delicious-tasting milk and meat alternatives, leaving one big, wedge-shaped gap in the market. We started Honestly Tasty in 2018 to fill that gap – and not just to fill it, but to blaze a trail and prove that mouth-watering plant-based cheese is possible.
After all, if something so simple was stopping people from giving veganism a go, we knew we owed it to ourselves, and the planet, to try. Following an investigative trip to Berlin, we set up camp in Granny Joyce's kitchen. We stirred. Fermented. Wrapped. And waited. After what seemed like a thousand different attempts, our originalblue cheese – made using a combination of new technology and traditional cheese-making methods – was born. Honestly? We had no idea just how much people would love it.
Mike quit his job. His sister Beth joined the company. And the journey to creating even more irresistible cheeses continued, with Ched Spread, Shamembert and Bree joining the line-up soon after.
These days, we're stocked in Planet Organic, Selfridges and over 70 other independent stores. We've won all kinds of awards, including the Plant Based Expo Cheese Alternative category. But, most importantly, our cheeses are now loved by vegans and non vegans alike. Eating a plant based diet doesn't have to mean compromising on taste, or enjoyment. It doesn't have to mean eating boring, bland food. And it doesn't have to mean giving up cheese. We've proved that – totally, utterly, honestly.
Who We Are
We're Honestly Tasty and we make plant-based
cheeses for people who love cheese. Using only the very best, carefully selected ingredients, we bring together fresh thinking with traditional cheese-making techniques. No dairy? No compromise.
Honestly Tasty was founded by Mike when his veganism came up against his love for cheese. After months of experimenting, Mike developed a now award-winning recipe for vegan blue cheese. It was too good not to share, so he closed the door on corporate banking and founded Honestly Tasty.

Fast forward a few of years and we now offer a range of authentic cheese alternatives, available online and via wonderful stockists around the UK. Which is your favourite? And what would you love to see next?
What We Believe In
We want to make plant-based cheese so delicious that it changes behaviour. We're in business to create food
for thought. Food that actually changes the way the world thinks about what we eat. About how plant-based really does make a difference, to animal welfare and protecting our planet. We do this by making cheese that is so damn tasty, there is no reason not to go plant-based. Changing perceptions and ultimately behaviour.

Giving back is a key ethos to Honestly Tasty. We currently donate 2% of all revenue to charity, including a contribution to The Dean Farm Trust, a community-run animal sanctuary in Wales and Cafe Van Gogh - a not for profit social enterprise in South London.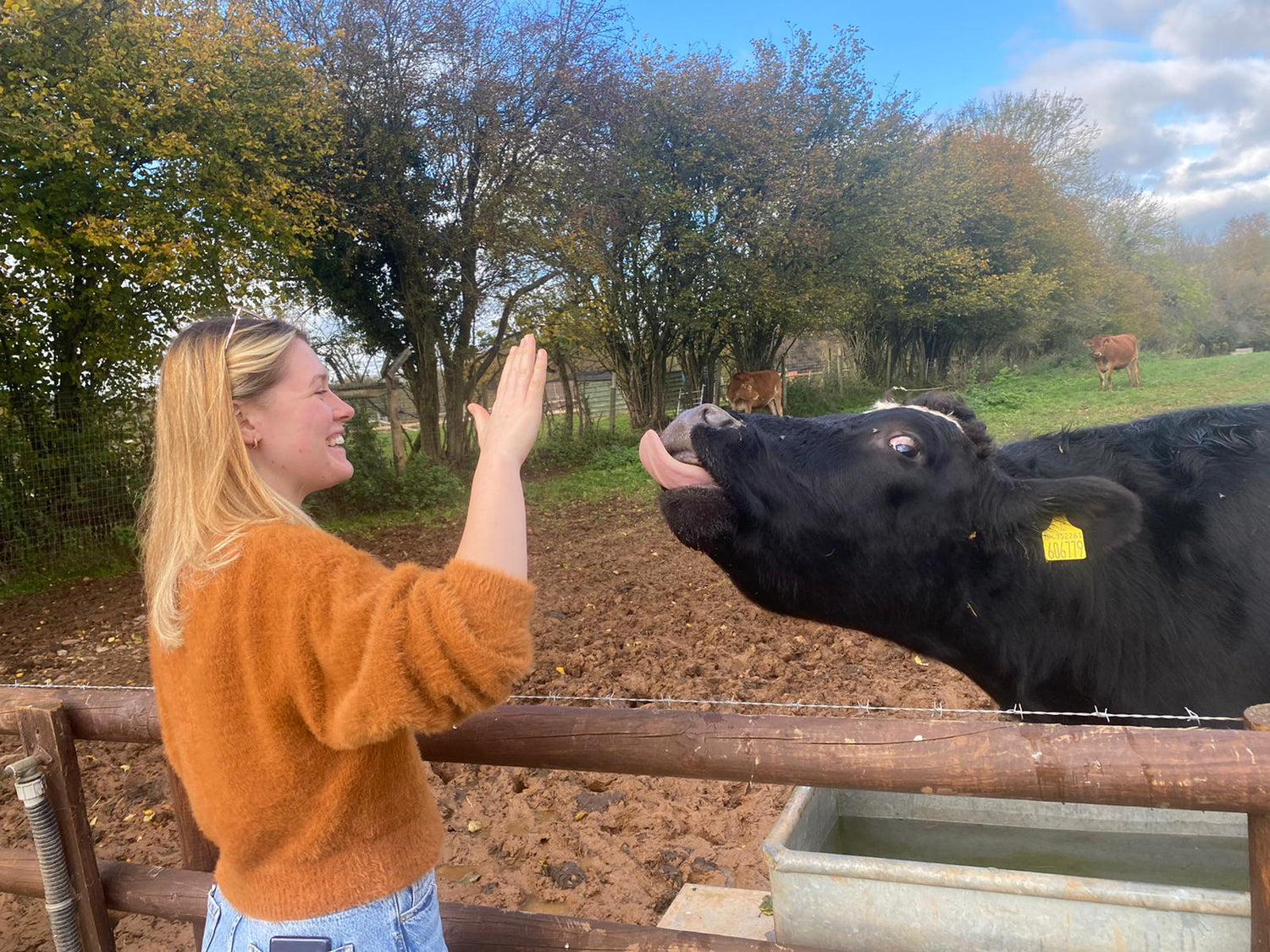 Careers in cheese.
Cheese can help combat climate change. By changing the way we eat and choosing plant-based, we can lower our impact on the environment. If you agree, and you're interested in helping us become the leading produce of high quality plant-based cheese, then get in touch - we'd love to chat. Be it an idea or a CV and cover letter, get in touch and we can take it from there.